Andy Cohen swears! In the wake of the "Vanderpump Rules" cheating scandal, no one edited the reality show's newest episode, which was taped before its infamous love triangle exploded onto the pop culture landscape this month.
"Guys, you're going to watch Wednesday's episode," the Bravo host said Tuesday on the Sirius XM show, "Radio Andy." "You'd think it was cut again. OKAY? It was not recut. That was the episode."
Cohen continued, his voice dripping with drama: "The conversations that are going on between Katie and Lala and Raquel aren't. To be. Believe. In light of what has come out. But I tell you the episode was not touched. That's how it was going to be shown, which makes it all the more shocking. You won't believe it."
And while loyal fans might not believe it, non-viewers and new viewers might just not get it at all. Tonight's episode of "Vanderpump Rules" probably has a deeper, hidden meaning in light of the cheating situation that blew up in early March. That's when one of the cast members of the "Real Housewives of Beverly Hills" spinoff learned that her longtime boyfriend was having an affair with her co-star.
For those clueless folks, we present the 'Vanderpump Rules' cheating scandal, explained.
The show
The first post-cheating episode of "Vanderpump Rules," a reality show about the people who work at "RHOBH" star Lisa Vanderpump's WeHo restaurants and bars, drew its highest ratings in three years, the Wrap reported Wednesday . The March 8 episode was watched live by 2.2 million people, double the March 1 installment. Clearly, sex sells.
"Vanderpump Rules" — or just "Pump Rules," if you're cool — launched its 10th season on Bravo in early February, promising "a new era of hilarity, drama and betrayal" on its website. Episode 6 airs tonight.
Players
The current core cast consists of, in no particular order, Vanderpump, Katie Maloney, Tom Schwartz, James Kennedy, Lala Kent, Charli Burnett, Scheana Shay, Tom Sandoval, Ariana Madix, and Raquel Leviss. Pay attention to these last names, as they are, ahem, intertwined.
Aside from restaurateur Vanderpump, all are current or former servers, hostesses, busboys or bartenders at her SUR and Pump restaurants. TomTom Restaurant & Bar, partly owned by Sandoval and Schwartz, is also part of the landscape. Although most of the cast members have moved on from their original restaurant jobs, they haven't moved on from the show that firmly placed them in the ranks of "middle-class businesses."
Sandoval and Madix dated for nine years and co-owns Schwartz & Sandy's Lounge in LA with Vanderpump, Schwartz and two others. Leviss did not become a full-time cast member until season 9.
The case
Maddix, 37, found out Sandoval, 39, was cheating on her on March 1 when, according to People, she was at a venue watching her beau's band. Sandoval and Leviss, 28, were seen fighting, the agency said, possibly before Madix found a racist video of them on her boyfriend's phone. Then he found their history of inappropriate texts.
At that point, the cat was miles and miles out of the bag.
Leviss and Shay, meanwhile, appeared on Cohen's "Watch What Happens Live" the same night, with Leviss defending their recent decision to kiss Schwartz, who is Sandoval's best friend and business partner. Leviss was previously linked to Schwartz following Schwartz's split from Maloney after Maloney broke off her engagement to Kennedy. Unpack the last sentence at your leisure.
The fall
By March 3, the couple's relationship was dead, dead, dead, even though Madix had planned to spend the rest of her life with Sandoval.
"This went on for over six months — the whole time, Tom was sleeping next to Ariana in bed," a source told People. "She was completely blindsided by it. broken doesn't even scratch the surface of how she feels."
Sandoval posted a note on Instagram on March 4 asking people to leave Schwartz and his friends and family out of the cake, noting that "Schwartz specifically found out very recently and certainly did not condone my actions." Sandoval also said he would be "taking a break" out of respect for his employees and partners at the salon.
Three days later, Sandoval released a formal apology to Madix and "everyone I've hurt through this process." He said he "acted in a way that conflicts with who and how I want to be" and will continue to "reflect and work on myself."
He also got a little emotional, writing, "My love for Ariana was stronger than any camera could have captured. … I wish things would happen in a different order and that our relationship would not be seriously tarnished and would end with the same respect … for the one that started. I owe Ariana better."
Leviss posted an apology the same day, March 7, "to Ariana, my friends, and the fans who invested so much in our relationship. There is no excuse. I am not a victim and I must own my actions. I am deeply sorry for hurting Ariana." He said he was talking to a counselor and taking steps to make more "healthy" choices.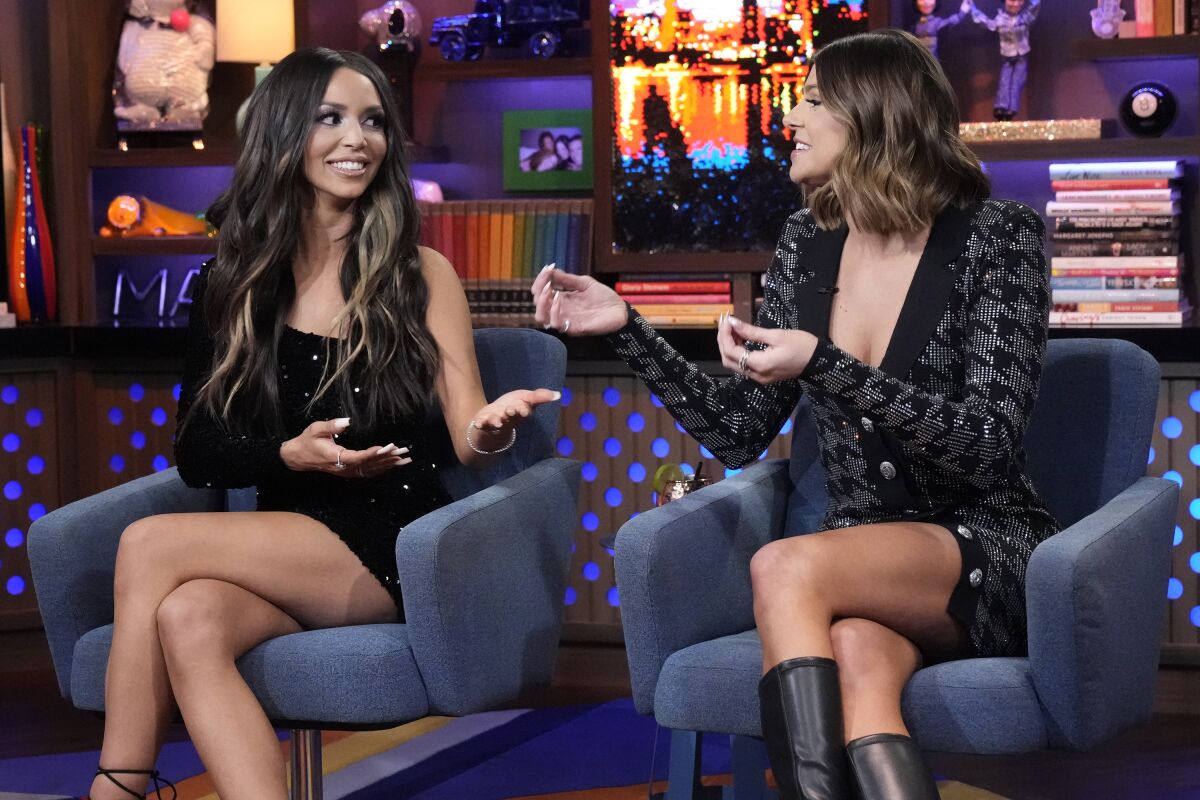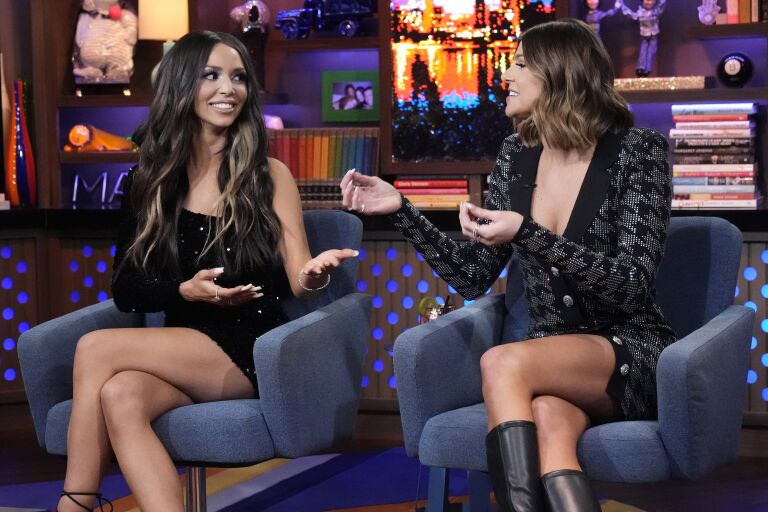 She also defended herself a bit, writing: "Although I chose to be on a reality show accepting the good and the bad that comes with it, beyond my own actions I have been physically assaulted, lost friendships, received death threats and emails of hate in Furthermore, my privacy was breached.'
Leviss also filed a restraining order against Shay that day, claiming according to TMZ that her apparent ex-girlfriend "pushed Raquel into a brick wall and punched her in the left eye." The rumor is that Shay, 37, was defending their mutual friend Madix and the deposition included photos of Leviss with dark marks under her eyes.
Then on March 8, Leviss returned to Instagram to say, in part, "I need to take care of my health, work on self-development, and take time to be okay with being alone. I care about Tom and I don't want to label anything or predict what's next. Right now I need to heal."
The next day, a lawyer for Shay told the Times in a statement that "Scheana never punched Rachel, period. The alleged dark marks around her left eye have been there for months." The statement referred to Leviss as a "known liar and con artist."
The appeal?
Cheating and scandal are baked into the cake that is "Vanderpump Rules," but this particular cheating scandal has fan chat groups buzzing.
"People feel they are being played. And they're putting all the pieces together right now," the person who anonymously runs the @QueensofBravoPlus Instagram account told the Times last week. "There's a lot of deception that goes along with it. … People may not be able to identify with elder fraud or [a spouse accused of] taking money from orphans and widows, but this is proportional, where people know what it's like to be cheated or cheated by a friend."
The show – again
What happens next? Well, "Vanderpump Rules," Season 10, Episode 6, airs at 9 p.m. Pacific tonight on Bravo. Viewers who want to catch up on the drama so far, which doesn't include anything listed above except for the cast members, can do so by tuning in hours earlier each week. Previous episodes are shown before the new one.
A source close to production told People last week that "the cameras are rolling right now," so the split will likely be part of the current season.
Times staff writer Yvonne Villarreal contributed to this report.